NEW COURSE RECORD | NO STRANGER TO US - GOLFER LE KHANH HUNG - GOLD MEDAL AT SEAGAME 32 - HONORARY MEMBER OF MONTGOMERIE LINKS GOLF CLUB
July 12, 2023
Posted by My Ly
It is our pleasure to welcome golfer Le Khanh Hung, who won the first gold medal for Vietnam's Golf team at the 32nd SEA Games, and his family to experience the premier leisure and golf destination at Montgomerie Links. He always makes an impression with the image of young talent with a strong passion for golf, always cheerful and friendly.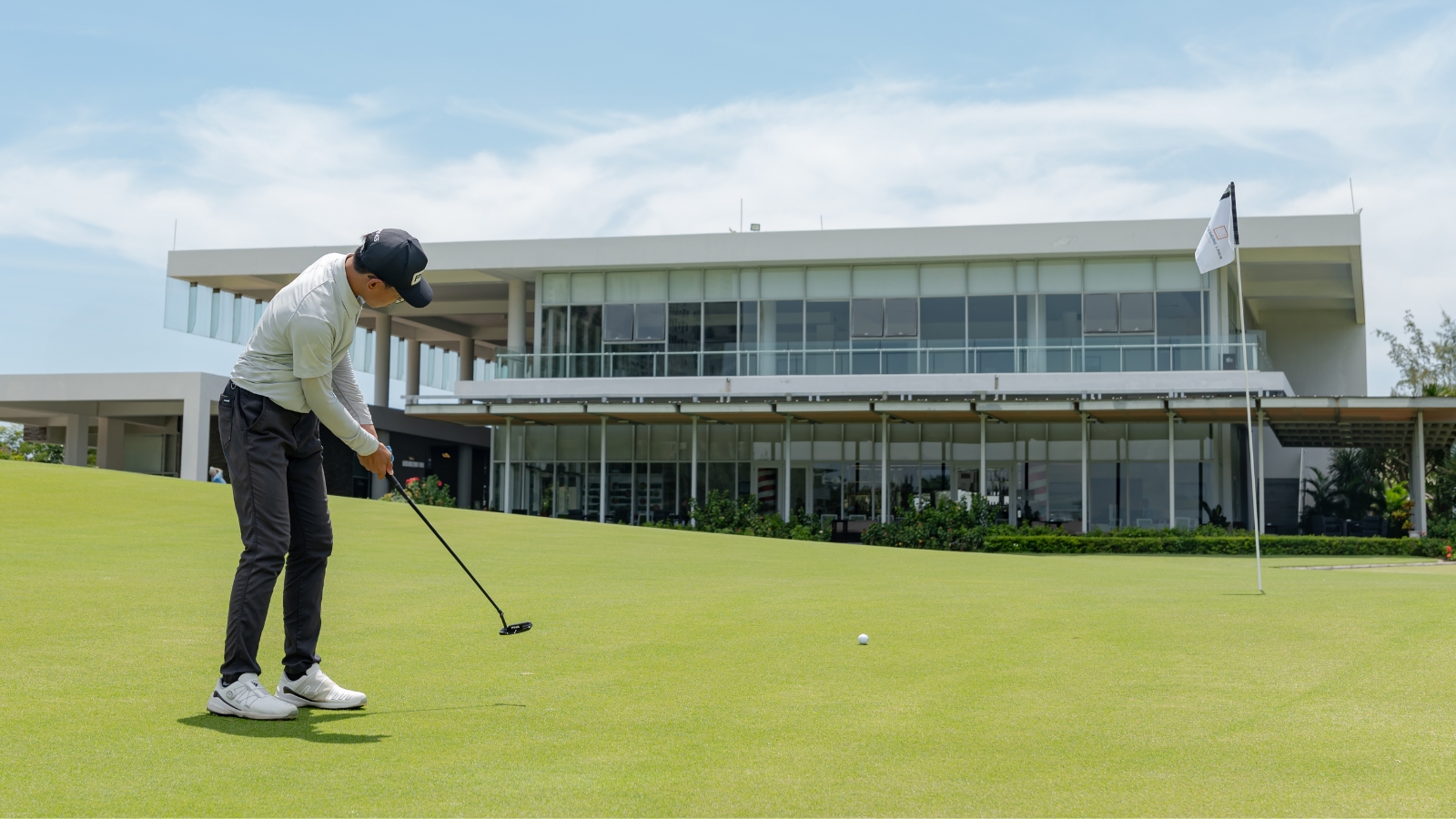 Golfer Le Khanh Hung broke the course record with an 8-under 63, notably riding with 8 birdies at Montgomerie Links Golf Club.
Combined with his family vacation in the Central Coast area and the practice schedule for the ASIAD 19 (Asian Games), Khanh Hung spent time experiencing the golf course designed by Colin Montgomerie. Montgomerie. Choosing to start from the blue tee box, what he expected is how to create a comfortable ambiance for other players on his flight to enjoy the stunning morning of June together. Golfer Le Khanh Hung flourished when continuously scoring birdies on holes 3, 4, 5, and 8, thereby ending the first 9 holes with a result of 31 (-5) strokes. After that, the 15-year-old young golfer continues to demonstrate impeccable form with 3 birdies in the remaining 9 holes. With an impressive scorecard with only Par and Birdie, he set a new course record at Montgomerie Links Golf Club.

Montgomerie Links Golf Club had the opportunity to make a conversation with Khanh Hung's family at the Montgomerie Links Hotel & Villas after finishing 2 rounds on June 27 and 30.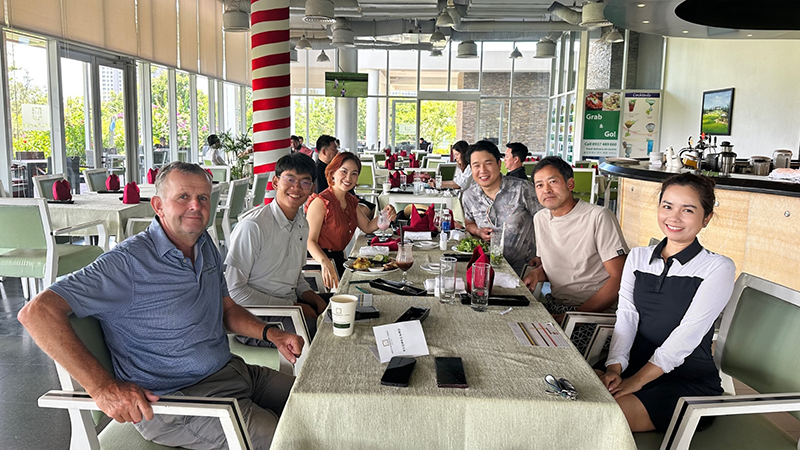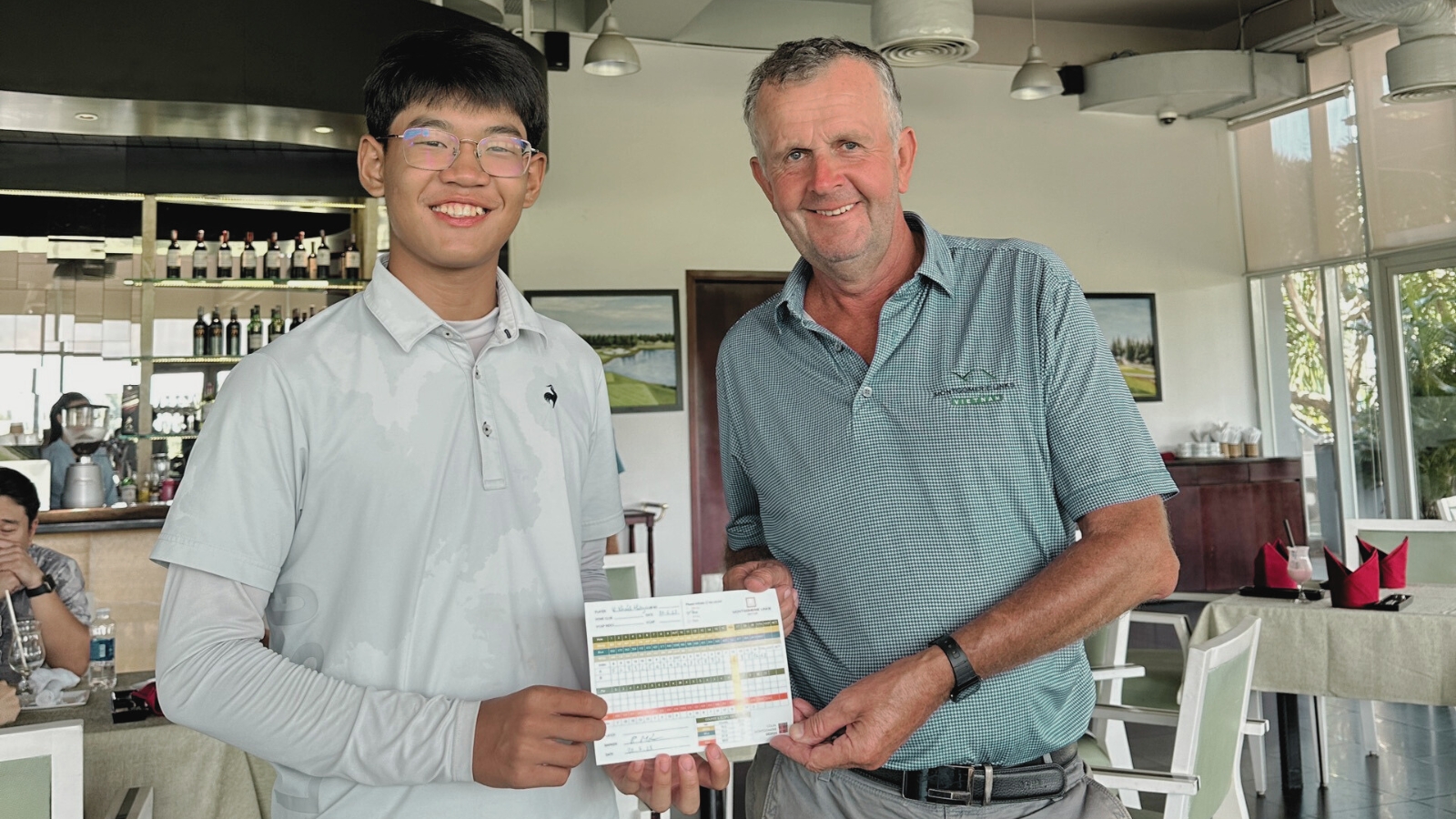 Khanh Hung shares some tips to prepare for playing at the new golf course without being afraid.
Psychological traps can be seen as one of the factors that greatly influence the outcome of a shot. So instead of constantly thinking about how to perfect set-up posture; bunkers; water hazards; bad scores on previous holes; or being distracted by the landscape, the birds singing... It means that what we should do is just relaxing in both physically and mentally. We try to not be distracted by the surrounding, think simply, focus on the present shot and enjoy it. Moreover, walking on fairways and hitting is also a way to relieve stress when playing on a new course for the first time.
The secret to getting a perfect result like Khanh Hung
There is no secret but to persevere in practice and use skills properly. Not only quickly adapting to the actual conditions on the golf course but also actively changing direction, or the position of the ball and setup or club play a vital role in determining a player's performance.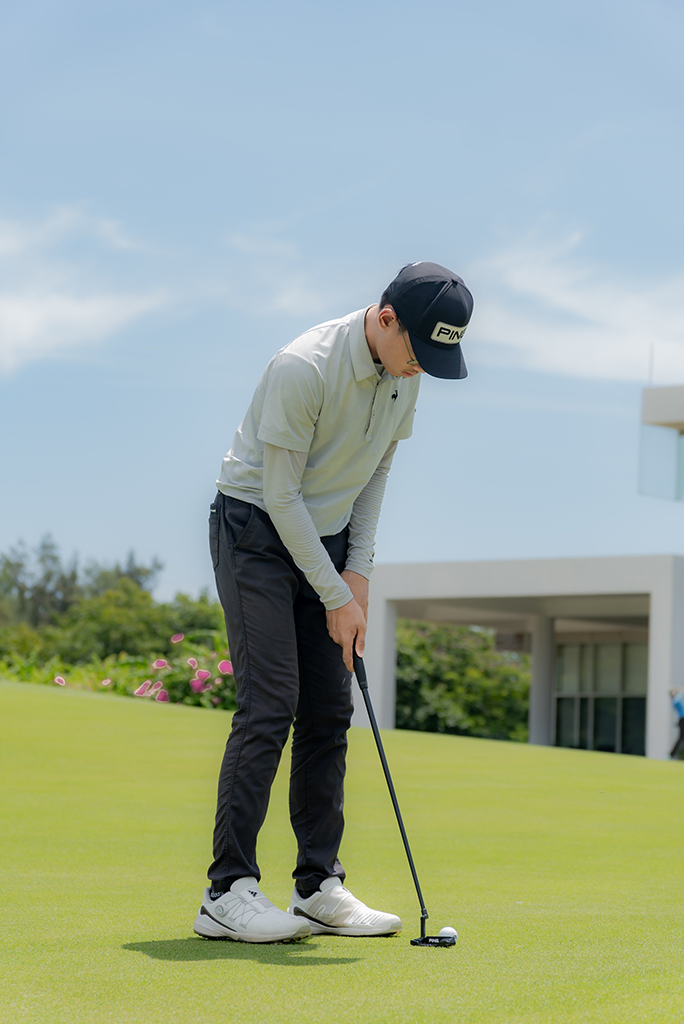 A piece of advice from Khanh Hung for those who are newbies
Just play and focus on your shots, nothing else.
The most favorite hole at Montgomerie Links
Can only say all holes are gorgeous. All holes have their own signature, bringing a lot of emotion when standing from the tee box looking towards the fairway. After experiencing 2 rounds, "among the Par-3 Holes, I am impressed with
hole #5
because I almost get Hole In One in that one"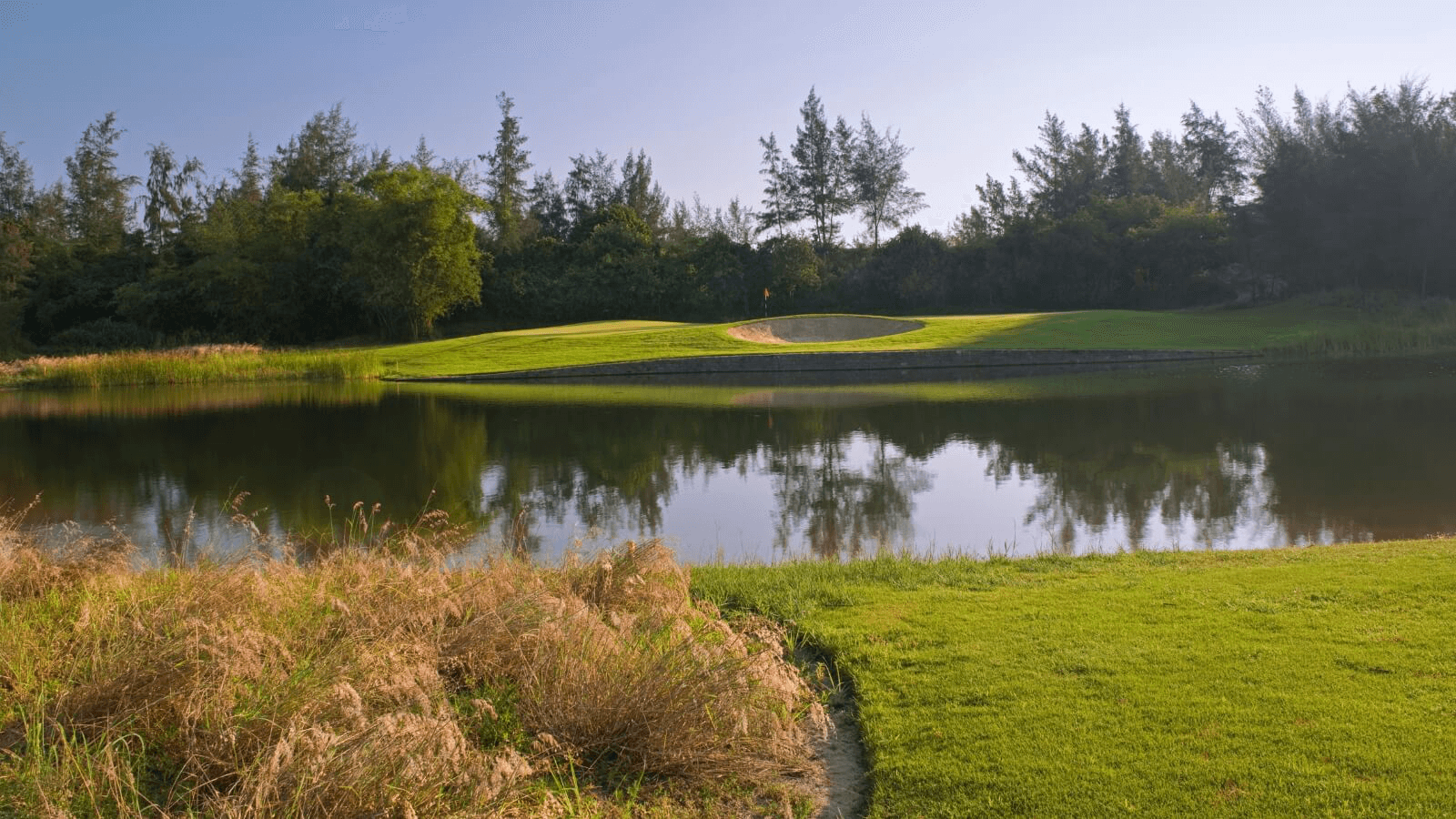 The sense of emotion when Khanh Hung set a new record at Montgomerie Links Golf Club with 63 (-8) strokes
Since playing on the blue tee, this is "normal". If this is an achievement in the tournament, it will be definitely amazing.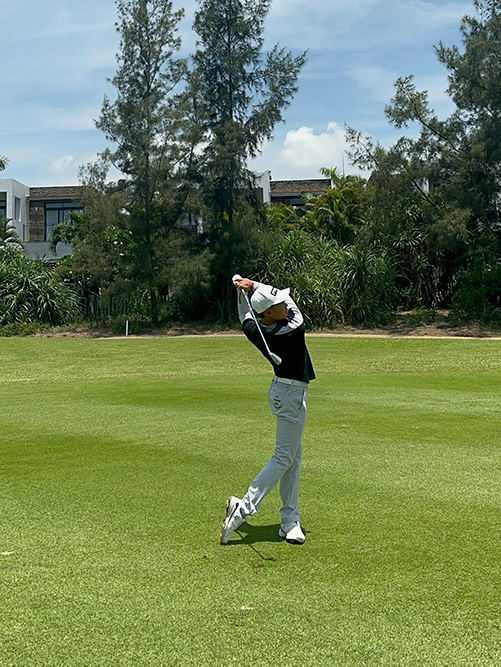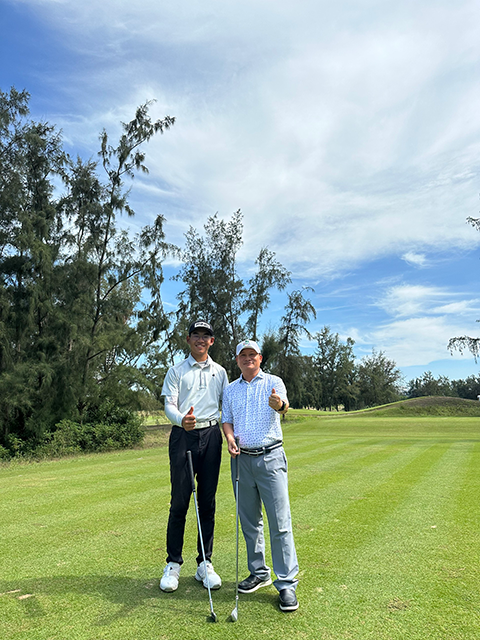 During this visit, the Board of Management of Montgomerie Links was pleased to give Hung and his father a 5-year Honorary Membership Card to encourage the spirit of the family on the way path of training.

Wishing the defending champion Le Khanh Hung all the luck in the world! May his new journey be filled with happiness, success, and love. Looking forward to welcoming him again soon.
---
Located along the main road between Danang and Hoi An, Montgomerie Links Golf Course is truly an international 5-star championship links-style course designed by golfing legend Colin Montgomerie, who won a record eight European Tour Order of Merit titles and captained the 2010 Ryder Cup. It tees up challenging and enjoyable play for all levels of golfers from around the world.