6 IDEAL SPACES FOR EXPLOSIVELY EMOTIONAL YEAR-END PARTIES AT MONTGOMERIE LINKS
November 03, 2022
Posted by My Ly
Goodbye to the uplifting old year and Welcome to a breakthrough new year! It is not purely an ordinary party, it is a fresh, unique, and impressive year-end one on the stunning fairways at Montgomerie Links. With an area of ​​more than 2 hectares of outdoor green grass space and indoor event venues, Montgomerie Links can satisfy all year-end party needs on a large or small scale.
I. TOP 6 PERFECT AREAS FOR YEAR-END PARTY AT MONTGOMERIE LINKS
1. DRIVING RANGE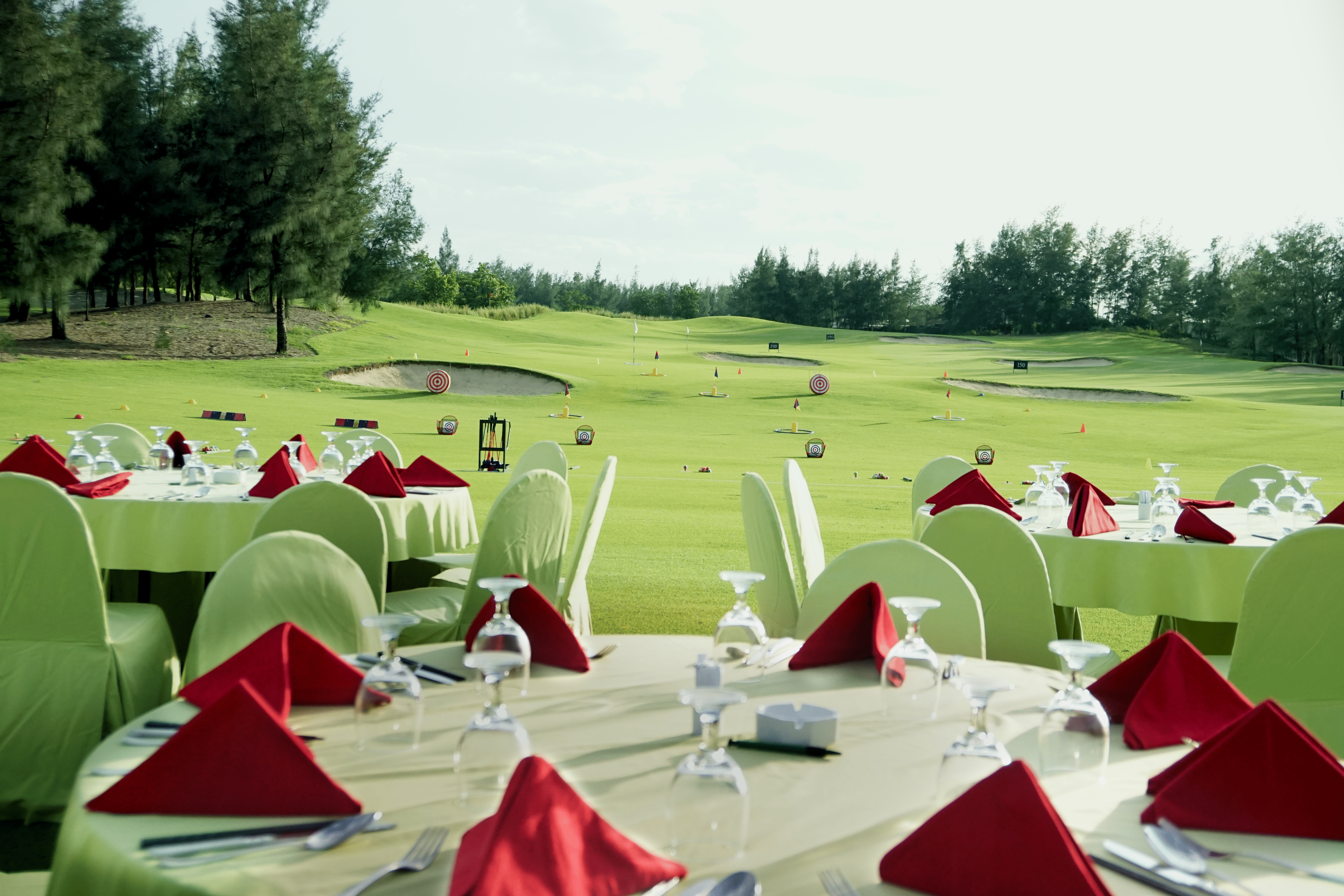 With a capacity of up to 1000 guests, the driving range at Montgomerie Links will be definitely an intriguing and ideal choice for entrepreneurs with a large scale. On the milky grass, gorgeous fairways, as well as spacious àn fresh air, the amazing connection between the beauty of nature and innovative decoration ideas make the year-end party even more sparkling and creative. Especially, outdoor parties have gradually a trend because guests can easily move around to chat, enjoy delicate cuisines, and drink. In addition, to make the ambiance more active, vibrant, and delightful, teambuilding games are not only a bridge connecting company members but also grant extremely unforgettable experiences for them.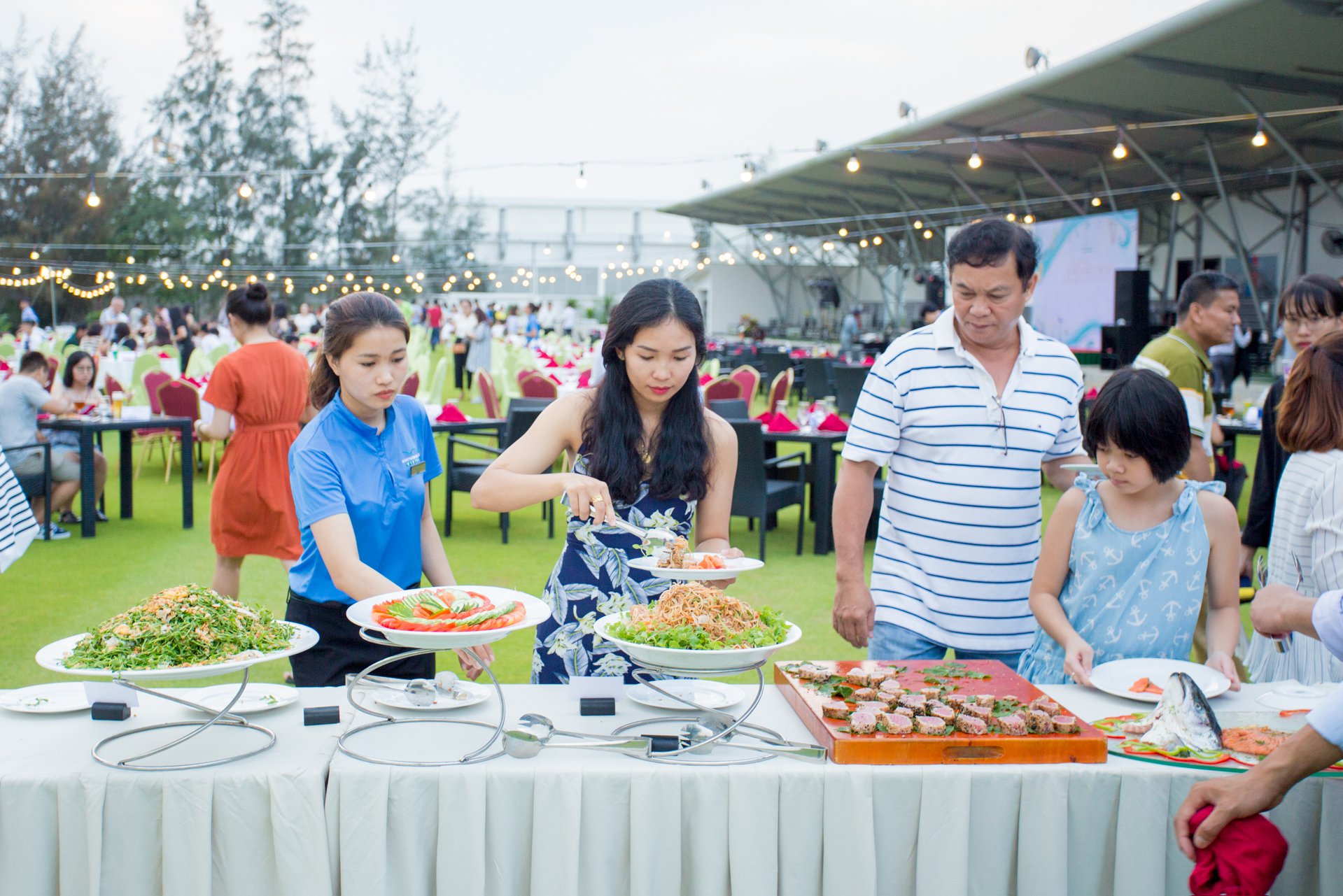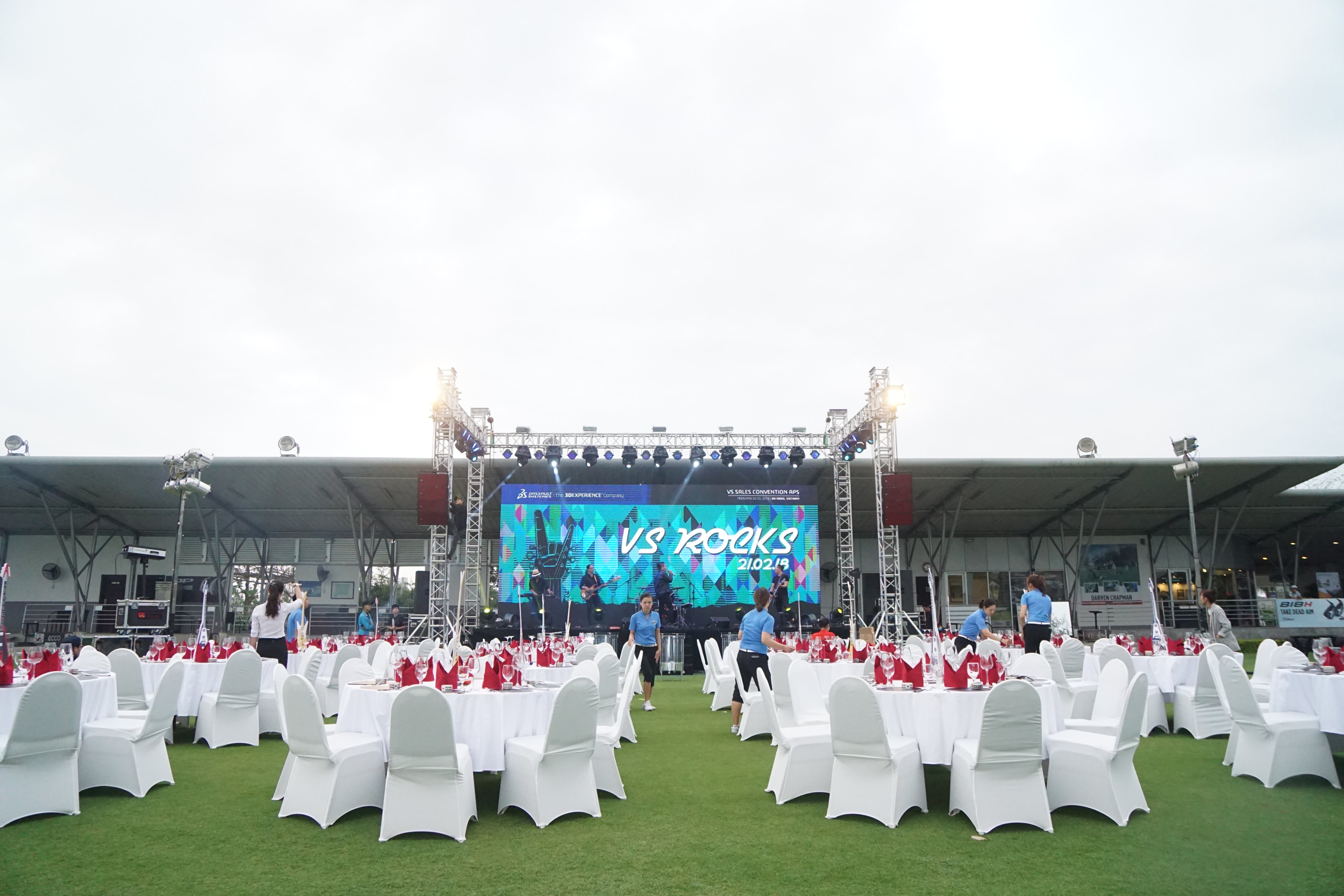 2. THE GARDEN AREA OF THE BISTRO RESTAURANT


For entrepreneurs with medium-sized scale, the Bistro restaurant garden area at Montgomerie Links is considered as the wind of change, granting enough excitement for more than 80 guests to attend the Gala Dinner and Year-End Party. The open space is fully poetic and cozy, outfits are matching, backdrops are ready for guests to check-in, and a stage is just enough with sound and light to prepare for enjoying music and cultural exchanges. Remarkably, 5-star standard dishes with attractive flavors and eye-catching decorations from Bistro restaurant chefs are the indelible highlight. All generate wonderful resonance which is barely enough to make the Year-End Party lukewarm and memorable for guests.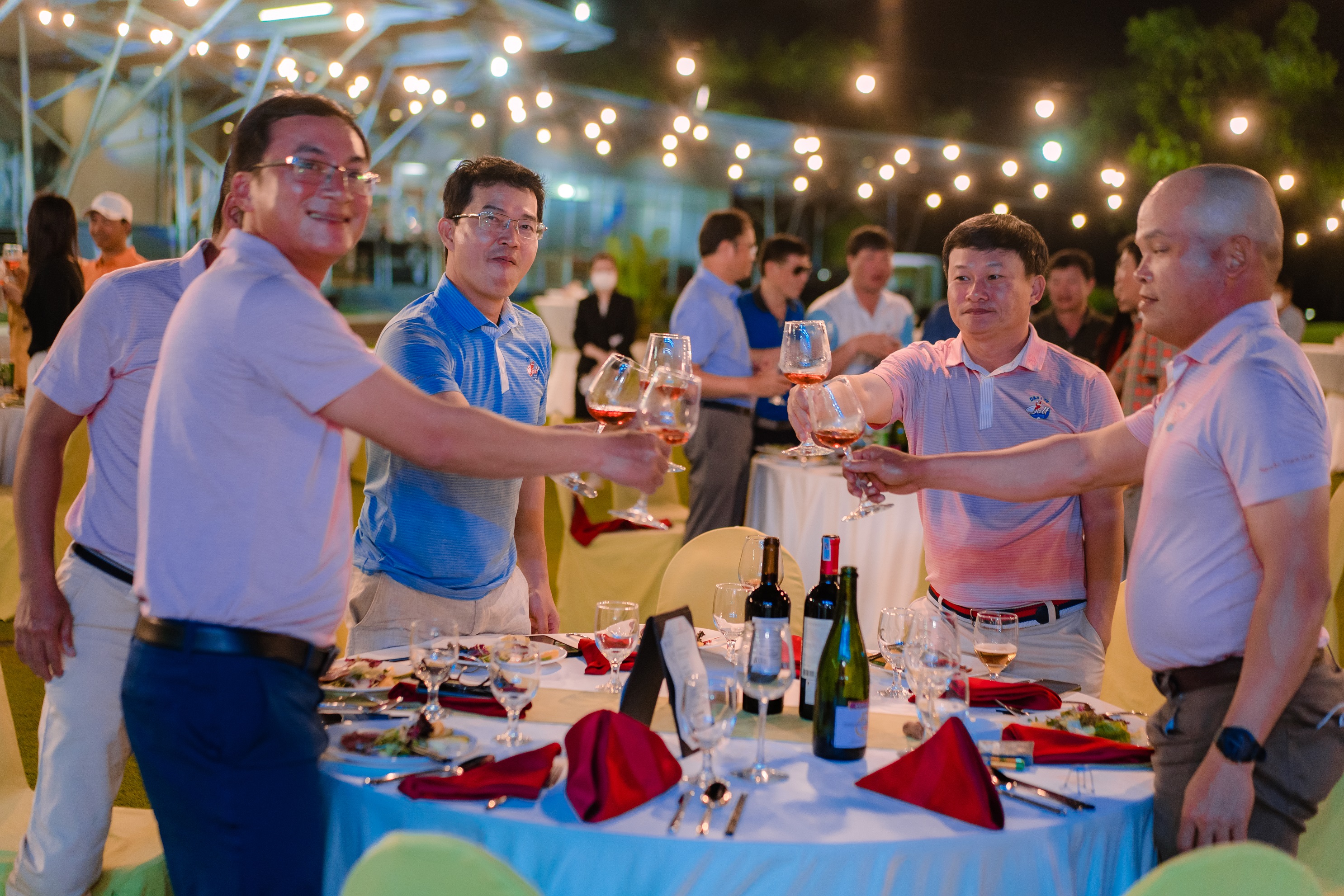 3. THE LOBBY OF BIRDIES RESTAURANT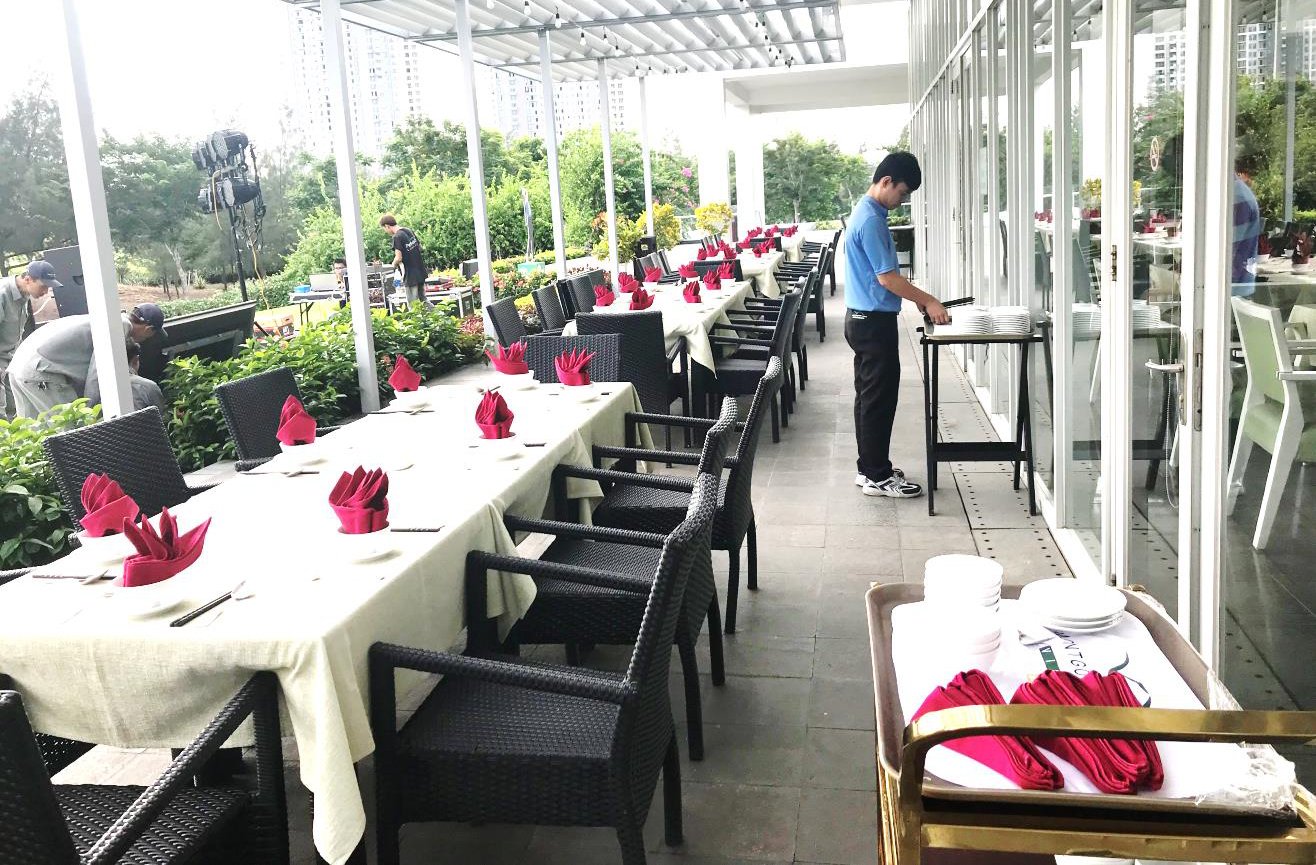 Birdies restaurant is located in the heart of the intersection of the clubhouse and golf course. With a breathtaking view of the 18th hole and a capacity of up to 60 guests, Birdies restaurant lobby promises to be a great outdoor space for guests who can't take their eyes off these natural beauties. To stimulate the Year-End Party full of energy, let's start with teambuilding activities at the stunning golf course, and then stop pin at Birdies restaurant where they are able to taste the quintessence of Asian - European cuisine and sublimate in emotions when looking back all up and down moments together. What a perfect ending for the Gala Dinner!
4. BIRDIES RESTAURANT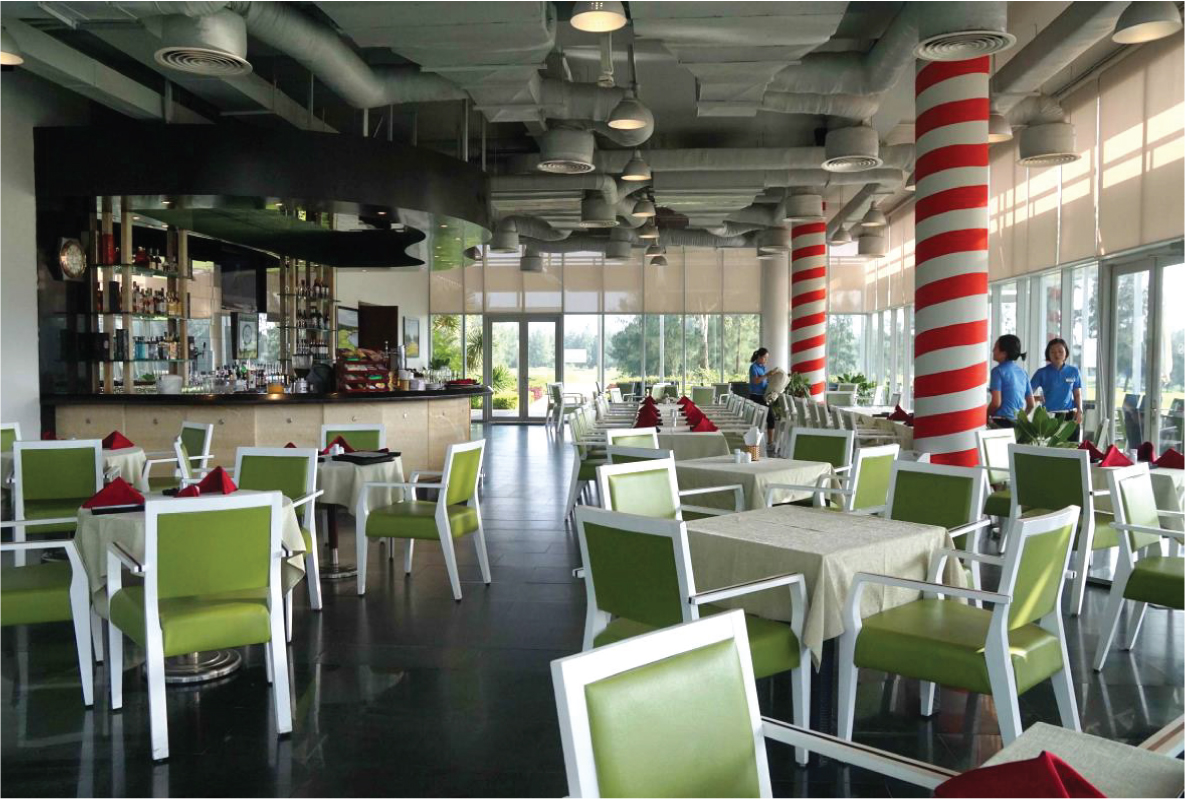 For entrepreneurs that are really into the classic style, Gala Dinner at Birdies restaurant is definitely the ideal spot to gather with coworkers. Designed in sumptuous, modern architecture with a spacious and attractive area, Birdies restaurant is a worthy choice for intimate year-end meetings with about 60 guests to mark the end of the old year and welcome the lucky new year.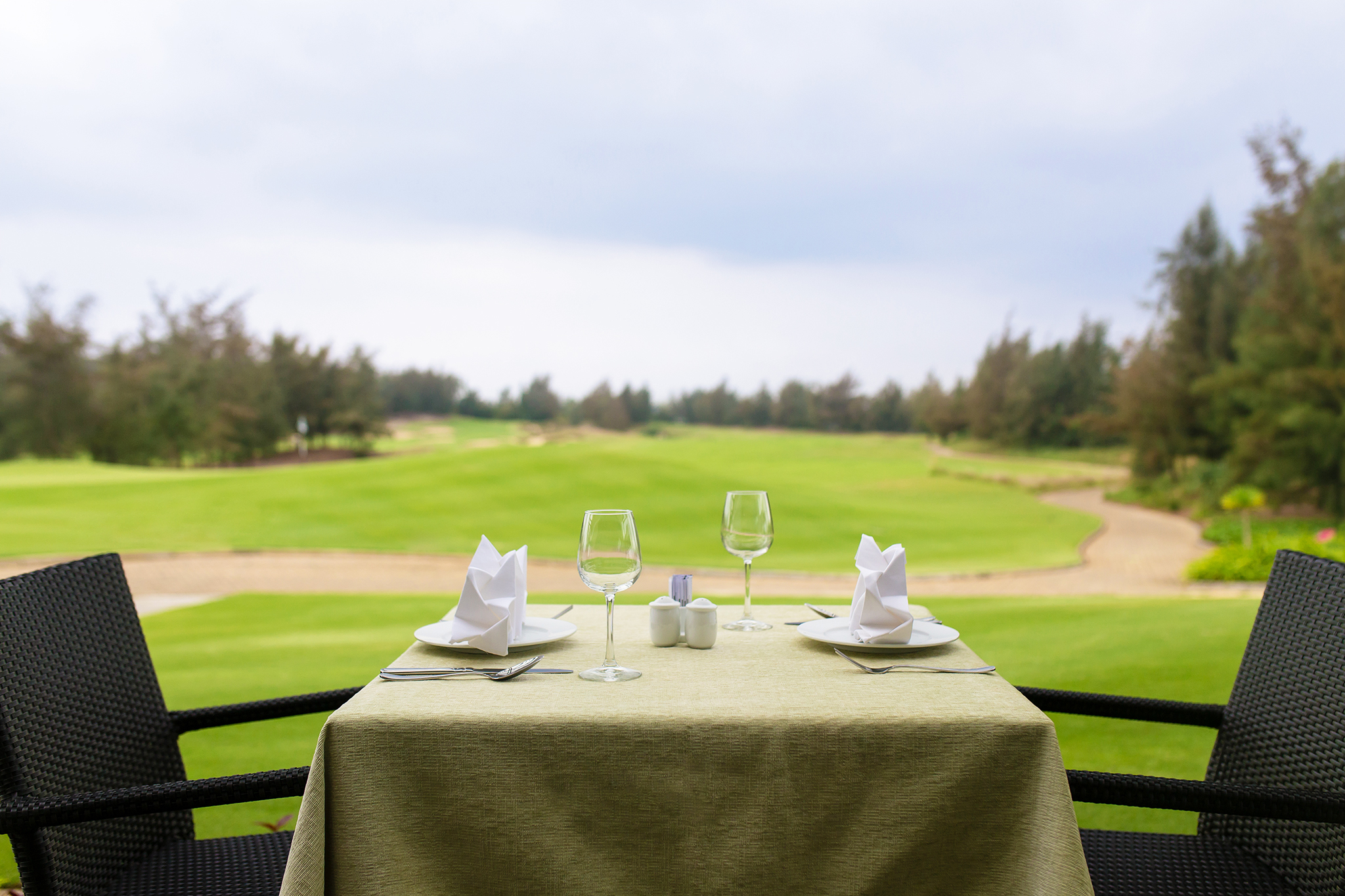 5. BISTRO RESTAURANT
The combination between Gala Dinners and vacations is gradually becoming a prevailing trend opted for by plenty of companies. The 2-in-1 combination is both convenient and attractive since guests can not only participate in a vibrant and colorful gala party at Bistro restaurant with a magnificent view towards the 10th hole fairway but also immerse themselves in unforgettable moments of relaxation at Montgomerie Links Hotel.
6. CONFERENCE ROOM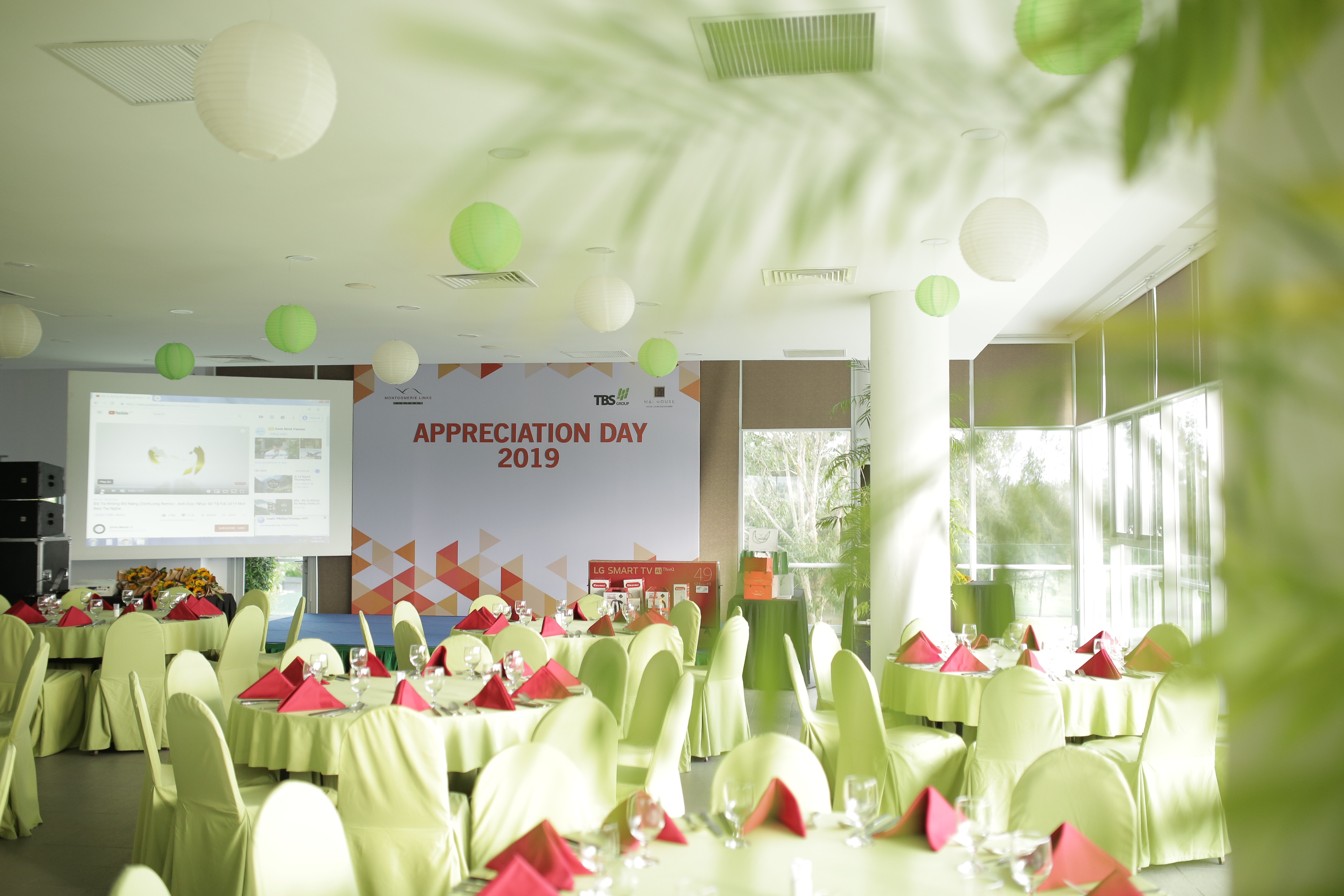 Located at the Club House with surrounding glass windows, making the most of the panoramic view of the golf course, the Montgomerie Links conference room promises to bring great experiences to the year-end parties of the most demanding guests. Conference room with an area of 280 m2 with a capacity of up to 140 guests, Montgomerie Links always meets all needs to create a separate impression both in space and in the layout of Gala Dinner parties. In addition, with the association of culinary quintessence and the poetic beauty of 18 holes on romantic sunsets, guests will have amazing moments of unwinding and chilling out.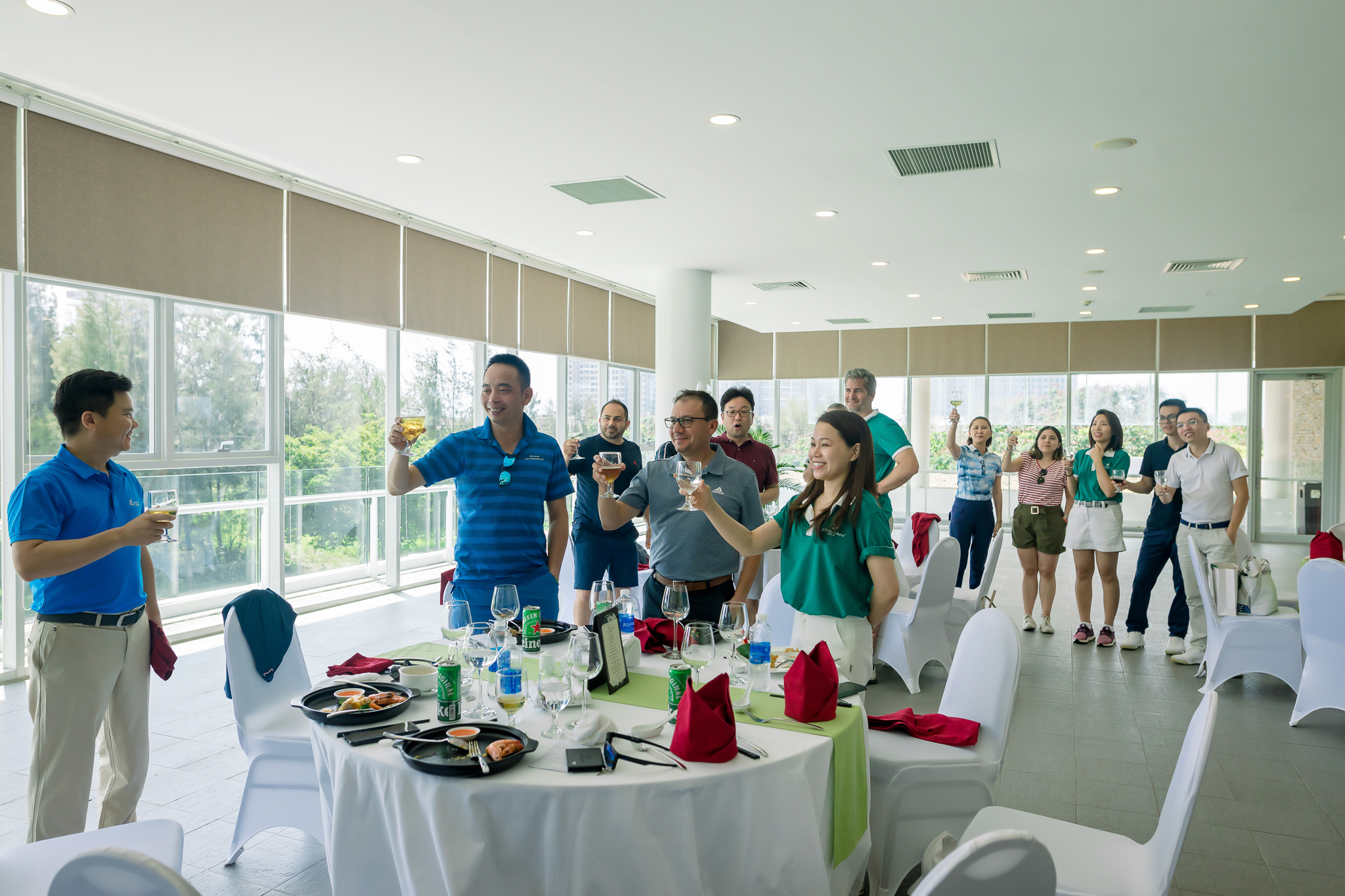 II. MONTGOMERIE LINKS - OUTSTANDING AIAN - EUROPEAN CULINARY RENDEZVOUS AT THE END OF THE YEAR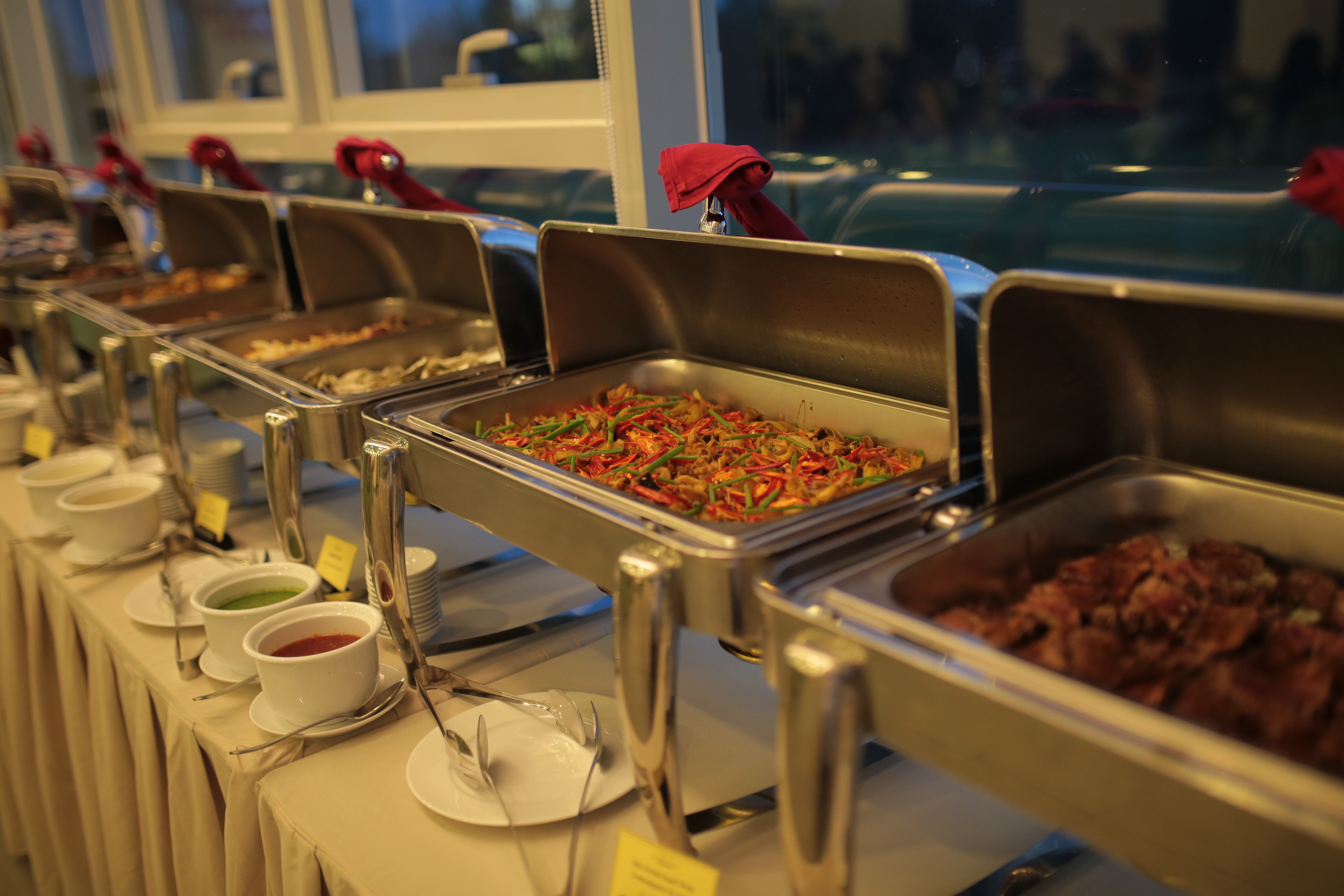 It would be remiss not to mention the cuisine at Montgomerie Links where you are able to taste scrumptious dishes with exquisite and impressive decorations. Entrepreneurs freely select from a variety of different and appealing menus, from a la carte to buffet. Attendees will get the chance to experience not only a banquet with the hometown taste of Vietnamese flavor but also one-pot dishes from many countries such as China, Korea, Japan, and Europe...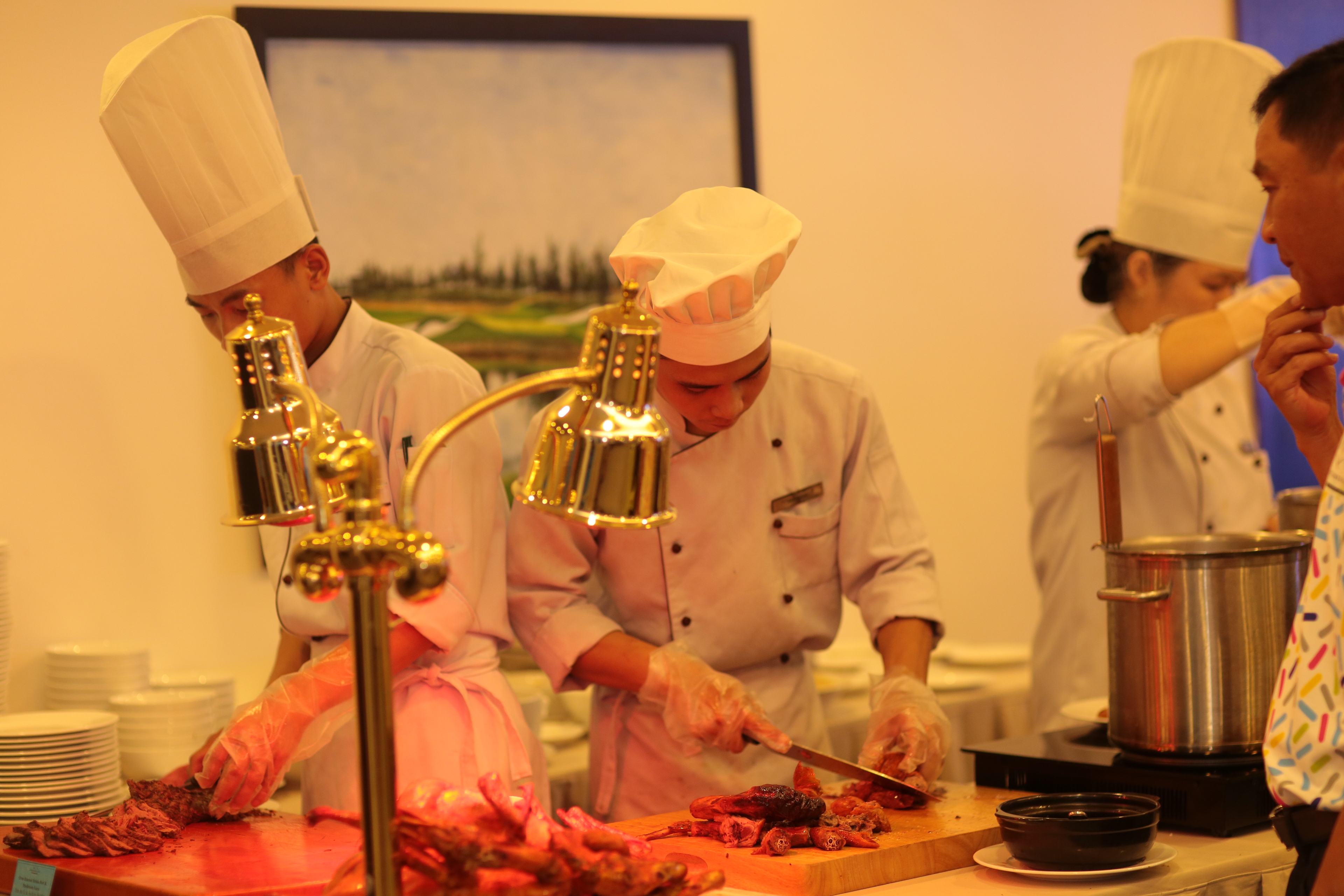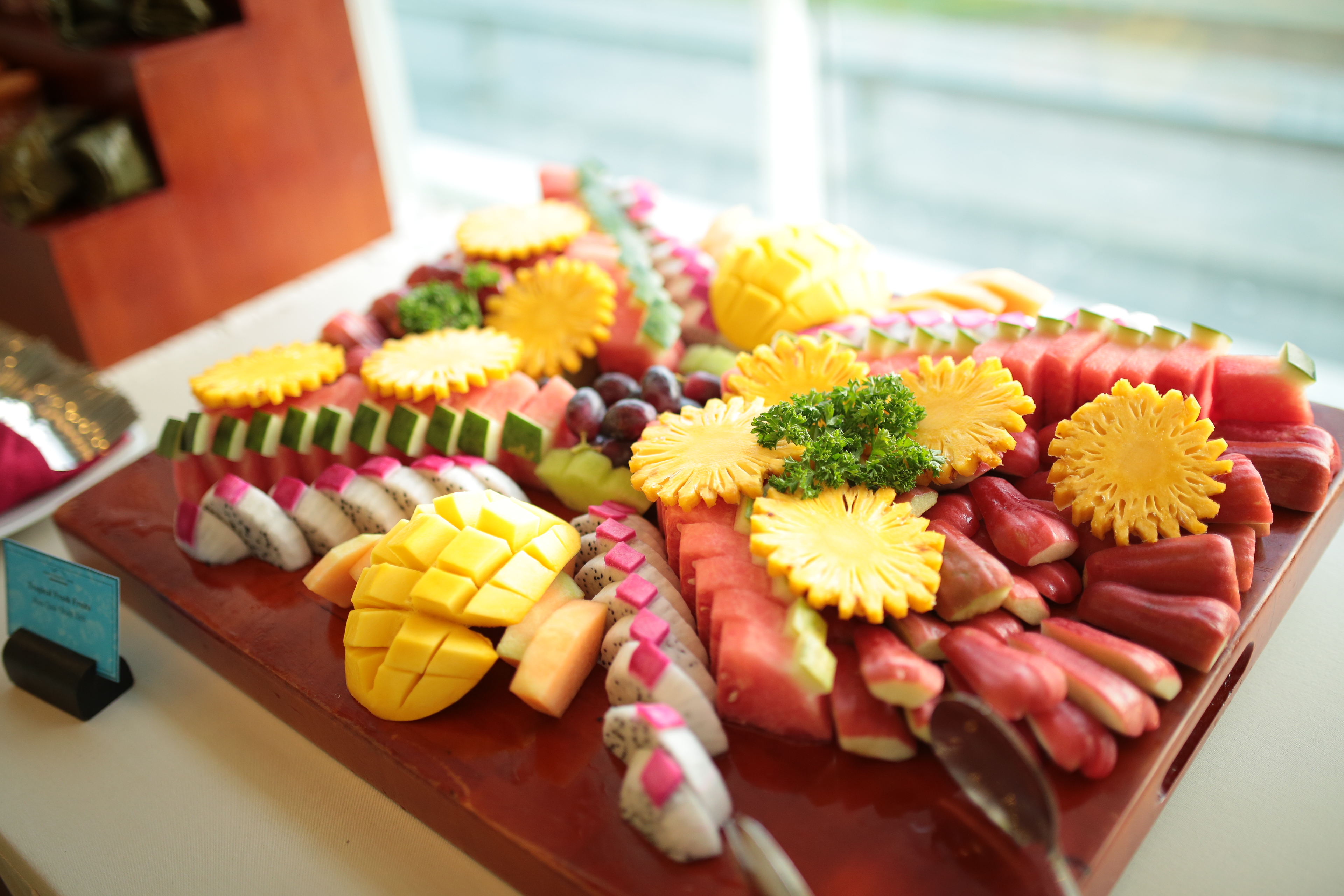 CONTACT:
Phone: +84 (0) 235 3 941942 | Email: reservations@montgomerielinks.com
---
Montgomerie Links Vietnam, one of the projects in Mai House Hoi An Hotel & Resort, is the first golf club in Quang Nam Province – Da Nang, with an outstanding design of 18 holes by Colin Montgomerie. The five–star Mai House Hotel & Resorts is invested in and constructed by TBS Land. "Mai house with love" is a message we would love to bring to all the guests warmly caring and the loving journey that leads to memorable delights. Every corner of the hotel and resort is taken carefully by the designers and constructors. To make sure everyone feels at their home.