8 MOST BEAUTIFUL BEACHES OF DA NANG
June 21, 2021
Posted by Admin
Most of the best beaches in Da Nang have a large sandy stretch of soft sand and clear water. The most popular popular beaches in Da Nang are My Khe and Non Nuoc, bcause they are situated close to the center of the city, in less than 10 minutes driving. This also means it can get busy during holidays and weekends, but there are plenty of other beaches around Da Nang to choose from. The beaches are also famous for the restaurant severing very afforable fresh seafood.
Overview of the most beautiful beaches in Da Nang:
| Beach | Distance from Da Nang | What to expect |
| --- | --- | --- |
| My khe beach | 4 km | Very beautiful and large beach, but also most popular |
| Non Nuoc beach | 9 km | Very nice beach close to the Marble Mountains |
| Bac My An beach | 2 km | Beautiful beach with a lot of resorts and hotels |
| Son Tra | 12 km | A pennisula with a few remote beaches; almost no tourists |
| Lang Co Beach | 35 km | A very beautiful beach, perfect to combine with the Hai Van Pass |
| Nam O beach | 16 km | More local beach, part of a village, possible to make boat trips |
| Xuan Thieu beach | 8 km | Great beach for sunrise or sunset. |
| Thanh Binh beach | 8 km | Popular beach for locals in weekends and holidays, close to the city |
Tips for visiting beaches in Da Nang
Best time to visit the beach of Da Nang
The dry season in Vietnam is from March to September. In these months expect that it can be hot and humid, with temperatures around 30 degrees. The hottest months are from June to August. This is also peak season, with public holidays and foreign travellers relaxing on the beaches of Da Nang.
In the wet season, from October to March, you can expect heavy rain. Unfortunate this is also typhoon season, with lot of rain, thunderstorms and sometimes occasionally floods. From January to March the rain is less and temperatures are between 20 and 28 degrees.
Accommodation on the Da Nang beaches
You can either choose to stay in the city of Da Nang or to stay along one of the beaches. An accommodation right on the beach of Da Nang is great if you would like to relax during your Vietnam trip. In the city you have more choose for restaurants and nightlife, but also more busy. The best beaches for hotels and resorts in Da Nang are My Khe beach, Non Nuoc beach and Bac My An beach. If you can afort, there are also luxury resorts on Son Tra Peninsula, around 15 km from the city.
Beaches in Hoi An
Less than 30 km from Da Nang you find Hoi An, the most beautiful town of Vietnam. Besides the old houses, temples and countryside, Hoi An also has some nice beaches. Check out the best beaches in Hoi An.
1. My Khe beach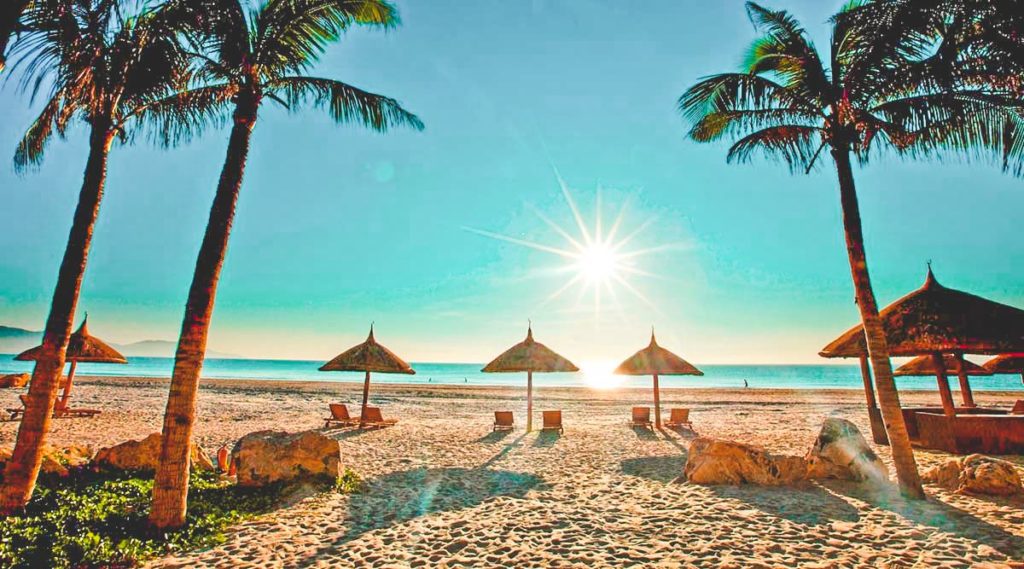 My Khe Beach is a very long stretch of white beach that is approximately 6 km from Da Nang. This Da Nang beach was first made famous by movies and TV shows where American Vietnam war soldiers enjoy peace in Da Nang. This beach has also been listed in Forbes Magazine as one of the 6 most beautiful beaches in the world. It is an idyllic beach with white sand, crystal clear blue water, calm waves and palm trees. You find here some high-end resorts, good seafood restaurants and water activities such as jet-skiing and surfing.
2. Non Nuoc beach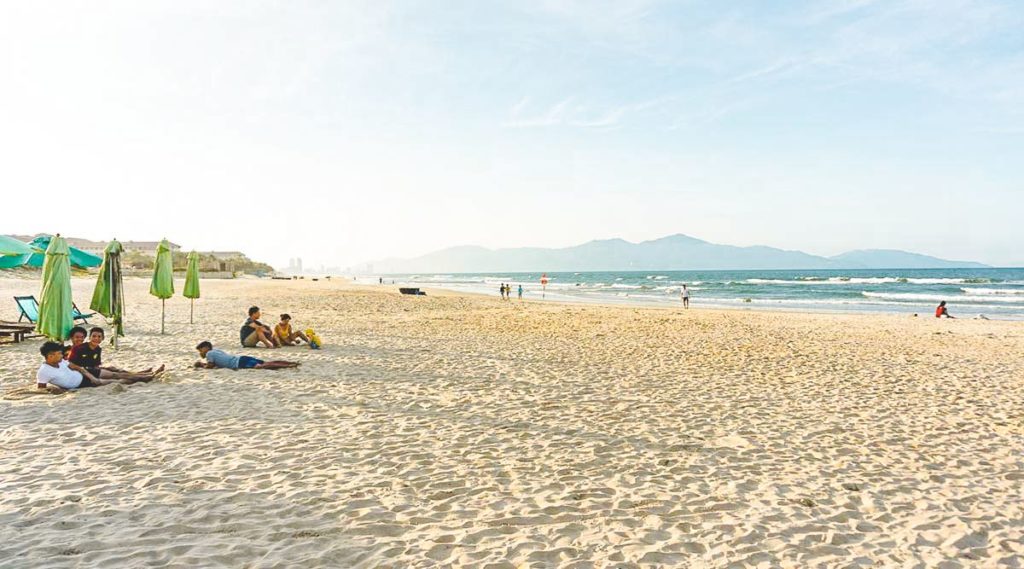 The Non Nuoc beach is located at the foot of the Marble Mountains and extends over 5 km. This beach has calm waves and crystal clear blue water all year round. You can also eat locally caught fresh fish at one of the restaurants. It is also an ideal place for sports such as surfing, windsurfing, volleyball, etc.
3. Bac My An beach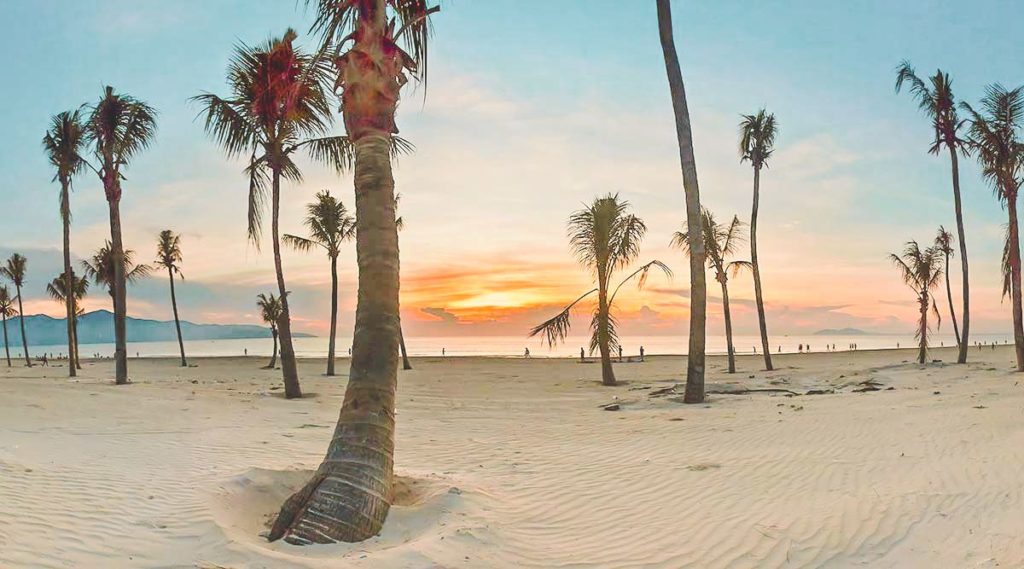 Another beautiful beach at Da Nang is Bac My An Beach. The beach is known for a number of five star beach resorts and hotels. The resorts have their own private area where you can sunbathe and enjoy outdoor activities. But you can also find public beach locations if you do not intend to stay in a luxury resort during your vacation.
4. Son Tra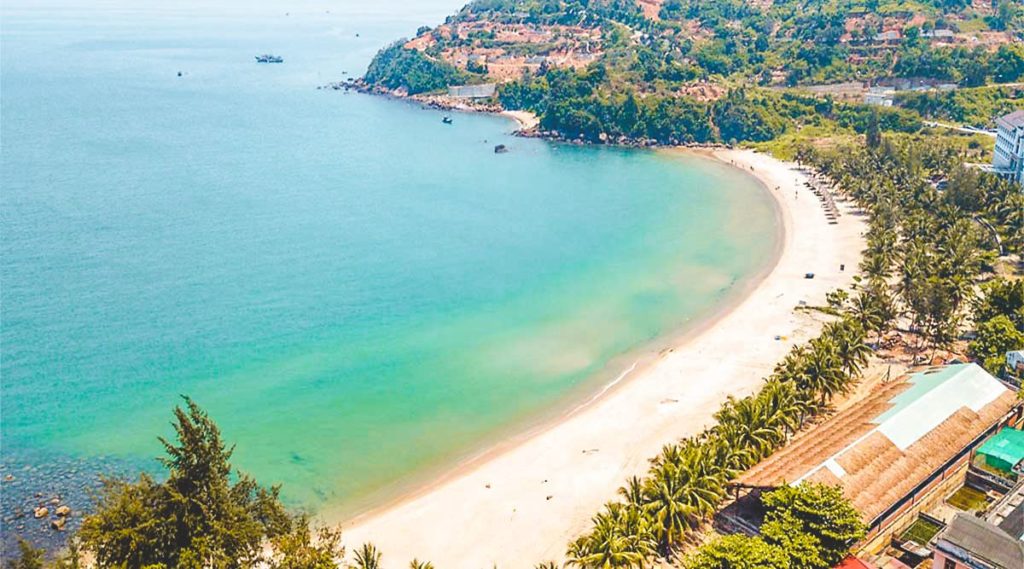 Son Tra peninsula is located about 8 km from the city center and has many beautiful beaches such as But beach, Tien Sa beach, Nam beach, Rang beach, Bac beach and Con beach. These beaches are all very beautiful at the foot of mountains with jungle and clear blue sea. Apart from relaxing on the beach and swimming, you can also go into the jungle, visit pagodas, ride a scooter around the peninsula and snorkel.
5. Lang Co Beach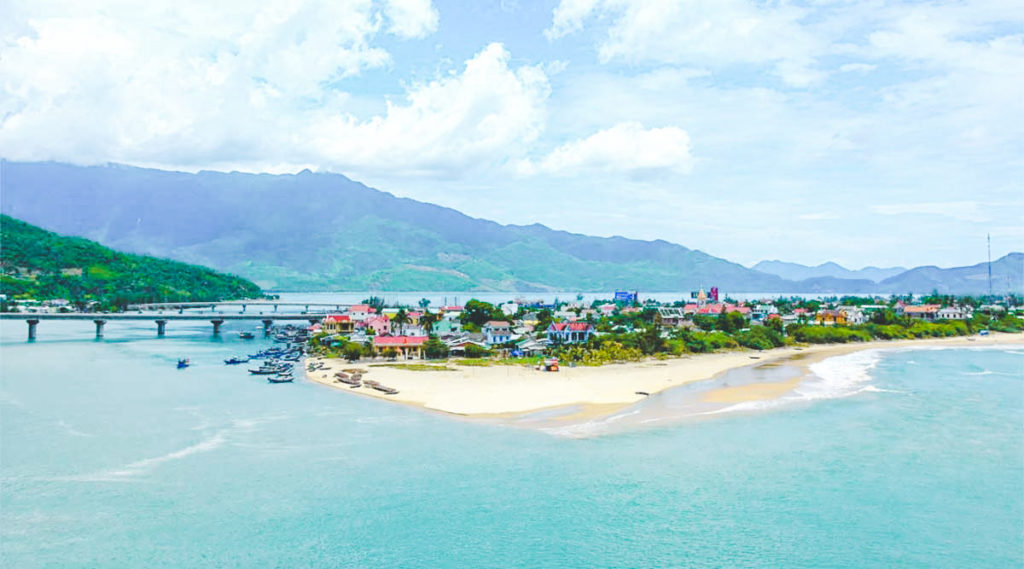 Lang Co Beach is already more in the direction of Hue, 30 kilometers from Da Nang, but because you cannot miss this beach and can easily visit it from the city, it is on the list of the most beautiful beaches in Da Nang. If you climb the Hai Van Pass you can see the fishing village and the Lang Co beach from far away. A 10 km white beach with blue water and a lake with jungle and mountains in the background.
6. Nam O beach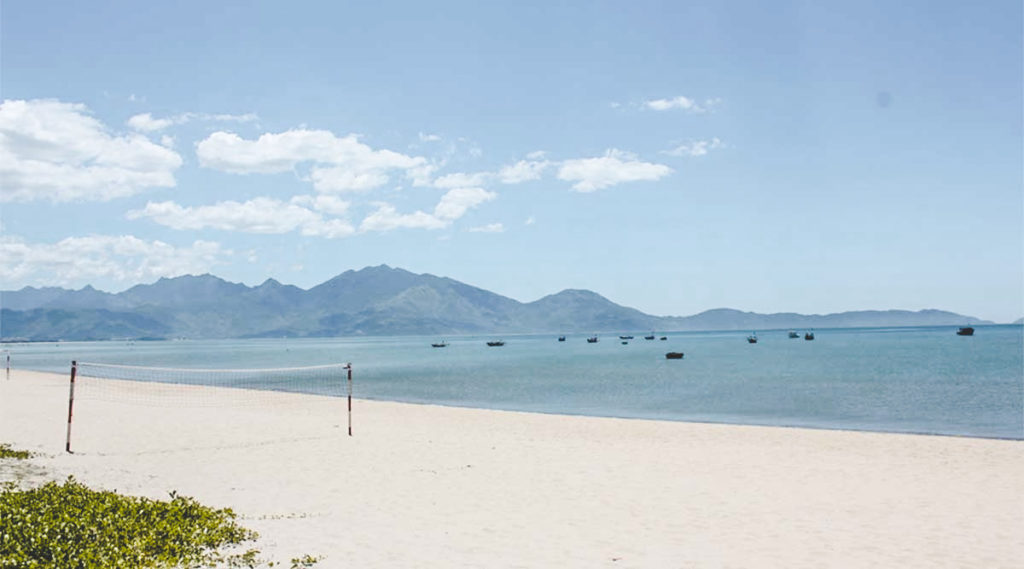 Nam O is a village of local people who make fish sauce. The beach is approximately 17 km from the city center. On the beach you can take a boat trip to the minority villages of Hoa Bang and Hoa Bac. From Nam O Beach you can also reach the Son Tra peninsula by road along the mountain or by boat.
7. Xuan Thieu beach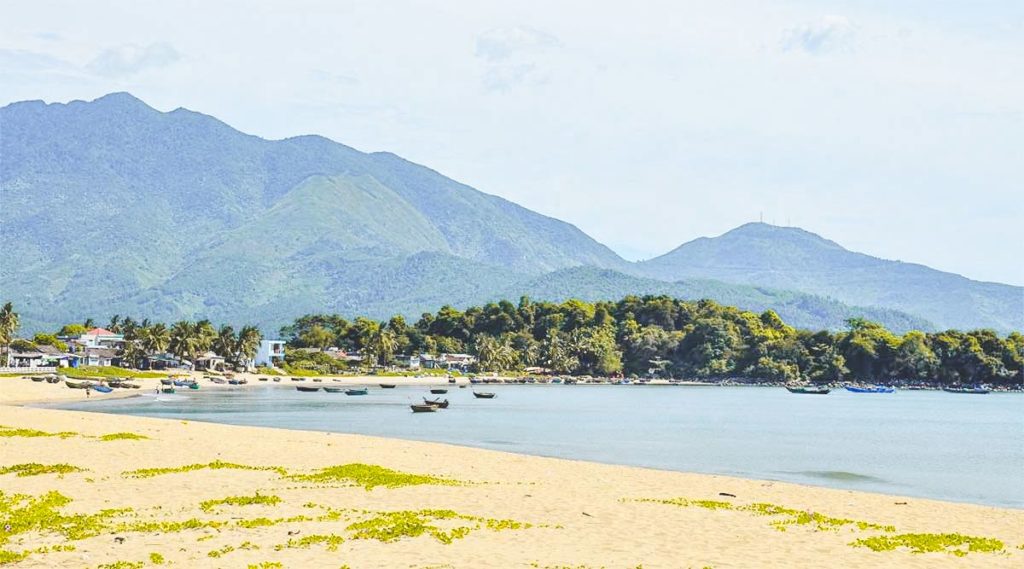 The beach extends very far to the foot of Hai Van Pass, one of the most impressive mountain passes in Vietnam. This historic beach was used in 1975 as an American military area, where there was an airport and storage facility for military supplies. Nowadays you will find several resorts on the beach, fish restaurants and bars here. It is also called the Red Beach. When you visit this beach at sunrise or sunset, you understand the meaning of the beach.
8. Thanh Binh beach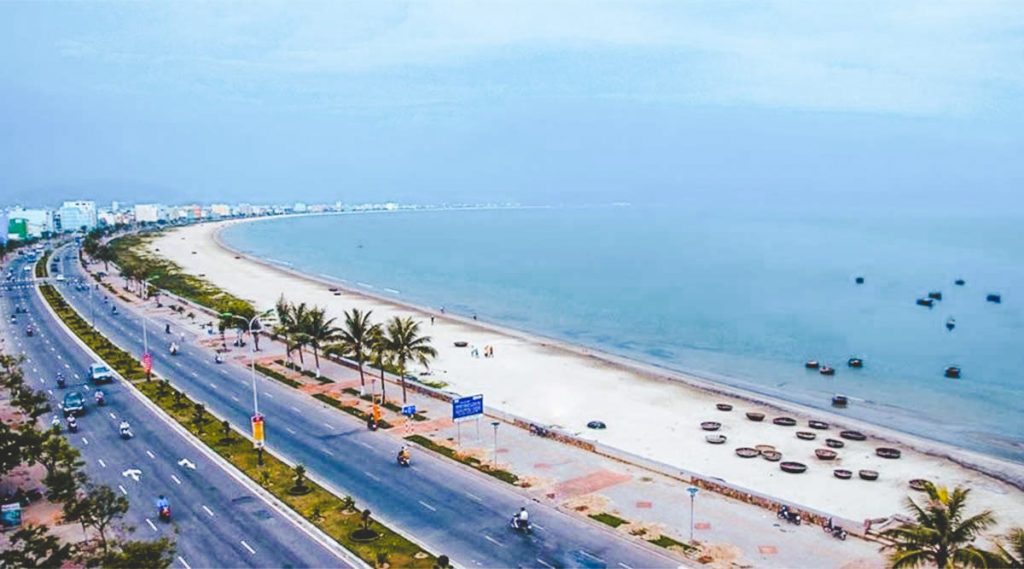 Thanh Binh Beach is one the closest beaches to Da Nang City. Its proximity makes it a popular place for locals to relax in the evenings and on the weekends. It has a length of 1 km and has mainly middle class hotels and local seafood restaurants. Water sports are available here, including windsurfing, sailing and boating.
Source: localvietnam.com