MONTGOMERIE LINKS OPEN MASTERS 2021
May 28, 2021
Posted by Admin
If golf lovers in the other half of the planet are eagerly seeking for the ticket to the Augusta National Golf Course to enjoy the breath-taking swings from the world's top players in Masters; on the Central Coast – Vietnam, Montgomerie Links honored presents its own version of Open Masters tournament at 11:45 on March 27, 2021. This is an annual Club's event that combines the exalted atmosphere in one of the biggest Majors in the world.
Continuing the success of last events, once again, Montgomerie Links Open Masters continues to select the classic Green Jacket as a present to the Champion of the tournament, creating more enthusiasm to all players. As the sporty spirit is all about connective and boundless, the Rule Sheet has been adjusted compared to previous years, offering the opportunity for all players to compete the Best Gross prize even if players own a Club Membership Card or not.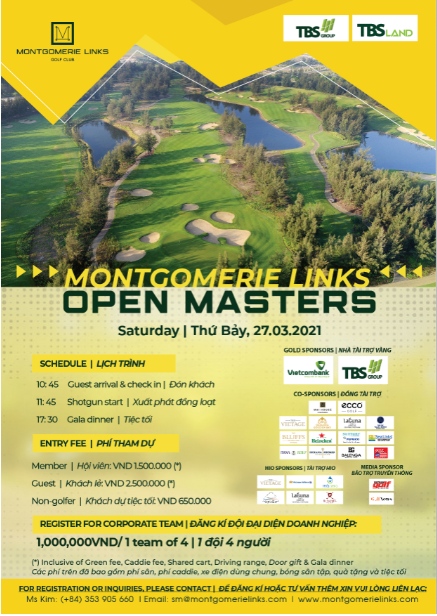 During all this time, the Club has continuously updated its operating and organizational standards to ensure a safe zone, relaxing sports environment for golfers. This tournament is part of the main events of the Club, so each preparation and organization will be done carefully to create the best experience for each participant.
Especially, along with this tournament, "Corporate Team Event" is on prize structure list, offering the opportunity to expose the brand at the Montgomerie Links uniquely. In addition to completing 18 holes and competing with other golfers by individual scores, players can enter a group of 4 names to join the event, and register under the name of the Corporate or Organization that you desire to represent. Base on their individual Scorecards, the Club will sum up each team's total Nett scores, and find a winning team to award a Brand Exposure package at Montgomerie Links within 6 months. This will be an award that brings great value to the spread of the brand image that is the Club's pleasure to accompany with Corporates and Organizations.
Accompanying us in the tournament, the expected 136 golfers are our strategic partners and sponsors such as The Vietage, Heineken, Suntory Pepsico, Vietnam Airlines, Maihouse Saigon, ECCO, and much more.
For further information, sponsorship opportunity and rule sheet, please contact the Sales-Marketing Department of the Montgomerie Links Club at the following information:
Tel: +84 (0) 235 3941942 – Ext 400 (Ms. Vân)
Email: sm@montgomerielinks.com
Website: www.montgomerielinks.com
Please click HERE to see the RULE SHEET
Please click HERE to see the SPONSOR INFORMATION